Custom Furniture
Showing all 7 results
This collection is only a small sample of the hundreds of custom furniture projects by Victor Klassen. Form and function are blended with gorgeous solid wood to create functional works of art made just for you. Interested in your own custom furniture project? Just give us a call and we'll work with you to create the piece of your dreams.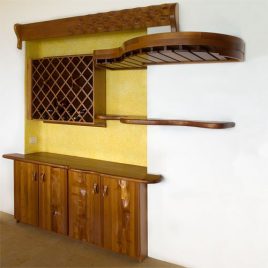 Built In Bar With Wine Rack
Delight in the fluidity of the wooden wavelets rippling in the top beam and bottom cabinets; in the exquisite lattice pattern of the wine rack in which as many as 50 bottles are cradled; then in the soft twists of the ledge, which are echoed in the wide curve embracing the wooden rack that holds the bar glasses.
Select options