---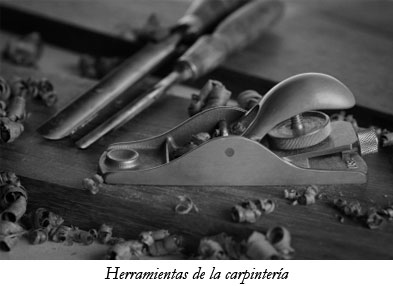 Victor Klassen grew up in a family of fifteen, on a farm in rural Manitoba. One of his fondest childhood memories saw him dashing to the workshop as soon as his chores were finished to build functional sailboats for use on the back pond. His love of design was born early, and at nineteen he set off for the University of Nigeria where his interest in sculpture was initiated. He returned the following year, and after finishing a History Degree at the University of Waterloo, he did a stint at CBC Radio. Then, a radical shift, he left to join a student movement. Fiercely individual and strong-willed, he even spent some time incarcerated due to his passionate beliefs.
His awareness of wood as a medium began soon after this tumultuous period. Walking with his sisters along the shore of a lake one day, he began picking up small pieces of drift wood, taking them back to Toronto with him. Later, as he was shifting the pieces around on a table, the wood began magically turning into an intriguing abstract face. This epiphany launched Victor into a period in which wood began the gradual conquest of his consciousness. "At best I am a servant of wood, attempting to translate its beauty and truth."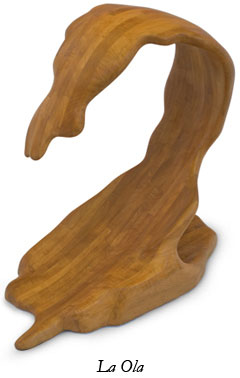 Now a committed wood artist, his success occurred as he gradually fell under the spell of "The Tree" and also the heresy of pantheism. "While conversing with trees, and especially meditating on forms of dead wood, I have seen visions of unsurpassed beauty". He describes his new found passion for trees this way: "Trees were the first vegetation to create oxygen on this planet. Trees have been here for over one hundred and fifty million years. They are the parents of life on the earth. They are worthy of our respect and there is good reason to revere them".
Another seminal and life changing event happened a few years later when a friend from Barcelona introduced him to the work and philosophy of the famed artist Gaudi. This struck a deep chord in Victor's being, and marked the beginning of his foray into what would become his signature organic and sensual forms in wood.
The artistic endeavor had become a fusion of the artist's new found inspiration and the material he worked with. While most wood workers cut their material into straight planks or beams – this being the easiest way in which to use tools to the functions we designate to it – Victor was keenly developing a different and ground breaking technique. The new found skills resulted directly from his "Desire to restore wood to its original organic form thus returning to it some of its dignity."
Other influences on his art include his life-long commitment to the study of Tai Chi. He studied the discipline for 30 years and also taught the form. "Its sense of equilibrium, fluidity, and circular motion have strongly influenced my designs." Even his origins came back to influence his pieces. "The flowing forms of my sculpture and furniture surely have something to do with the beautifully formed snowdrifts that I played in during my Manitoba childhood"
While living in Mexico, Victor married and soon moved back to Canada. Not yet being able to make a full time living with his art, he began supplementing his income by working in framing carpentry. "I enjoyed the constant contact with wood and the practicality of the work brought me down to earth". Still faithful to his art and influences he also began designing spaces and then houses, continually looking for challenges and unique opportunities that would challenge his imagination.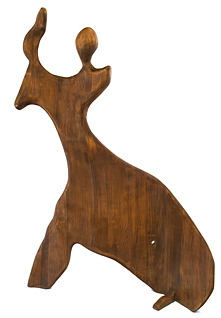 The death of Victor's father and the beginning of his Vipassana meditation course in Mexico in 1985 would bring more life changes. It was at this point he found a true direction and his career took off. "I knew that wood and meditation had become a vortex in my life". Meditation was giving him the patience and perseverance to solve complex design problems. "My best work has been done in a creative state in which my sense of time and self has been seriously limited if not eliminated. Meditation took a feverish mind and a sporadic creativity and fashioned it into something with continuity and purpose."
Poverty also helped flush out his design skills and forced him to merge the whimsical with the practical. "I lived only on what was sold Saturdays and Sundays from a stall by the side of a road. Something had to be sold every weekend or my family and the one artisan I employed would have nothing to eat. We had to create drama in our pieces so that they would catch the attention of a passing motorist". He had found a market for his unique furniture. "Design is like witchcraft – you have to believe in it for it to affect you." One of his first major clients took Victor on at the insistence of the customer's wife. "His first check bounced. But when he saw the work his jaw dropped and we went on to spend three years redesigning every room in his house."
Victor has worked for many years with artisans who have painstakingly acquired the skills to make his most challenging designs a reality. "We have worked together for the last twenty years and my success is in large part due to the excellent carpentry skills they have developed. My partners' wood-working magic has been admired by artisans from around the world".
The highly praised Mennonite sense of economy – in which any waste is abhorrent – has also colored Victor's work. "I was working on a large commission and I had cut deeply into my materials budget with no interesting results. I decided to relax and not give 'the whole' such exaggerated importance and rather use the excess wood that was piling up.

The commission was completed in this way, the customer was thrilled with the result, and another design direction was born.
Victor continues to draw inspiration from the forms of nature and still experiments with new techniques. He remains the creative mentor behind The Victor Klassen Collection, and is directly involved with commissions and various custom projects.
Victor summarized his work as follows. "Someone once described my work as a celebration of women through the wood."