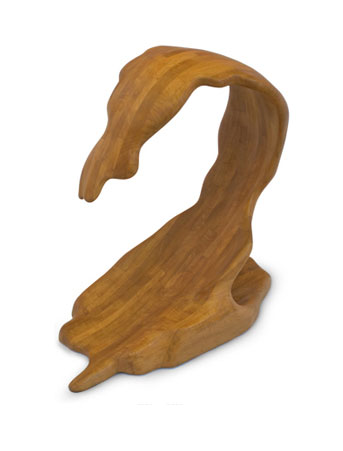 Victor Klassen has always placed the integrity of his work as his highest priority. The unique design of our pieces has much to do with his ever evolving skill in manipulating the wood he so respects (see the Artist's bio). Ours is a small family of dedicated and highly-skilled craftsmen who have worked with us over many years – in some cases decades – perfecting the art of Victor's visionary styles.
Using their tools in innovative ways, they work with only the best quality materials. First Grade Red Cedar and American Ash are the mainstays in our collection. Both are kiln-dried hardwoods, and are extremely adaptable to our techniques – perfect for the stability and longevity of our pieces. The leftover wood is all used in very creative ways (waste is anathema to the artist) and can be seen in such breathtaking pieces as the Strip Divan.
After the pieces are formed, they are laboriously and carefully sanded by hand. The craftsmen truly feel every curve and nuance of each piece as they work it into soft submission. Hand-rubbed stain is then minimally applied in order to enhance the beauty of the grain. A coat of urethane is finally added to protect it for generations to come.